Despise
Jump to navigation
Jump to search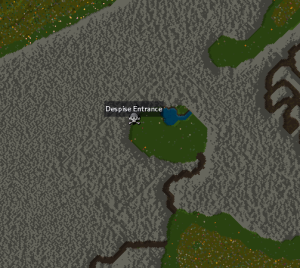 Despise is one of the Britannian Dungeons.
Location: Located North of the Britan Cemetary, found within a clearing in the Serpent's Spine Mountains.
Inhabitants: Hostile monsters including Ettins, Earth Elementals, Cyclops, Titans, Ogres & more!
There are 3 levels in Despise, excluding the entrance point which will lead you either upstairs or downstairs.
As you progress deeper through the dungeon, the monsters become harder to battle and provide greater loot.
Dungeon Despise is home to one of three Champion Spawns - the only spawn currently located within Britannia.